Tuapeka Gold Print Ltd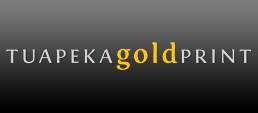 Introducing the Business:
Tuapeka Gold Print. The Best Promotional supplier in Australasia. Recognised and admired industry wide as the benchmark in innovation, product reliability and print quality, delivery speed and outstanding customer service. As the industry leader, Tuapeka Gold Print will provide our customers with easy, efficient access to a select range of innovative products, superior printing, world class customer service, and the business and technology services necessary to increase their sales and profits.
What the Business needs:
Marketing Intern 
The Marketing Intern is a marketing professional at the beginning of their career that assists in day to day operations of both the customer service and sales and marketing teams under the supervision of respective team-leaders.
Key Tasks
Customer Service – Assist with phone/email service and other customer service-related tasks
Order Processing – Process customer orders and correspond with customers regarding order requirements.
Creative – Copy writing, creating design briefs, developing marketing content.
Product Information – Assist with the maintenance of product information and content on websites.
Product Information – Assist with the maintenance of product information and content across various platforms.
Product Development – Undertake product development tasks including sourcing, design, development, costing and pricing.
Non-stock Sales – Assist customers in the design, development and delivery of customised items including quoting, production and shipping.
Production – Working in various production areas in order to build and understanding of the company's products and services.
Responsibilities
The ability to work in a team environment and contribute to team effort. A positive attitude and approach to working with and within the team is essential. Always work and treat fellow team members with respect.
The ability to communicate openly with team members regarding all aspects of production. Be considerate of other team members and their responsibilities.
Skills
The ability to adapt to a changing business and work environment. Be open to new ideas and initiatives and be prepared to monitor, maintain, communicate and measure performance in all areas of production.
Be prepared to take full responsibility for your tasks and be able to communicate problems back to your team leader. Be proactive in resolving issues.
Be Creative and Innovative and encourage team members to be the same.
Be prepared to be open and participate in meetings and lead if necessary.
For more information about this Business, please contact:
Office Address:
9 Chadwick Street Fairfield Dunedin
Preferred Contact Information:
Pam Homer
03 4788501